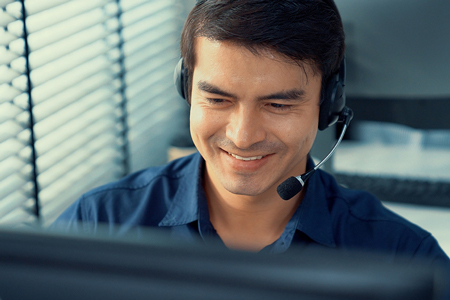 When finding a reliable and comprehensive medical answering service in San Francisco CA, look no further than MedConnectUSA. We have been providing doctors, dentists, chiropractors, and other healthcare practitioners with a range of phone support for more than 30 years. Our staff is trained to answer your patient's questions and calls without issues.
As one of the leading providers of medical answering services in San Francisco, CA, we are proud to be 100% HIPAA compliant. Furthermore, we have been the recipients of the Association of TeleServices International (ATSI) Award of Excellence 20 times. You can hire us with confidence that your patients' sensitive information will be handled with respect and care. We also believe in continued education. This ensures all policies and procedures are at the forefront of our operators' minds. Security of your patient's files and information is one of our top priorities.
Our Medical Answering Services
At MedConnectUSA, we are passionate about offering the premier medical answering service in San Francisco, CA. Whether your office needs help with overflow or if you need someone full-time to schedule your appointments, we are here to help.
Our team is composed of experienced professionals who understand that every healthcare practice requires different levels of assistance. We take the time to fully understand your expectations. This allows us to tailor our services to meet and exceed those expectations. You can utilize our services a little or have us carry most of the load. It is entirely up to you.
Furthermore, our custom-built systems are designed for accuracy and ease of use, so you don't have to worry about anything. We also carefully monitor all incoming calls. This ensures that your patients receive only the best possible service from us at all times.
We Are Always Available
At MedConnectUSA, we understand how important it is for healthcare practices to stay connected with their patients. That's why we offer the most reliable medical answering service in San Francisco, CA. Furthermore, our offices are answering the phones 24/7/365. You can always count on us when you need us most.
This round-the-clock operation allows your patients to get ahold of someone, even after hours. You cannot beat this level of service. Your patients can schedule appointments, find out test results, or message their doctor all through the day or night.
Our Commitment To Quality
As part of our commitment to providing the most high-quality medical answering service in San Francisco, CA, and throughout the country, we use only top-notch technology while maintaining strict confidentiality standards at all times.
All information gathered by our operators is securely stored in encrypted databases and protected by advanced encryption protocols – ensuring total privacy for both patients and healthcare providers alike.
Additionally, our staff receives regular training sessions on proper handling techniques for sensitive topics such as mental health issues & suicide prevention protocols – ensuring everyone is well prepared when these conversations arise during their shifts.
Get In Touch With Us Today
Call now if you're looking for an experienced medical answering service in San Francisco, CA, or anywhere else across the United States. We would be happy to take care of your practice by answering your phone calls. Ringing phones can be quite a distraction and burden. Help your staff out by hiring a professional medical answering service serving San Francisco, CA. We take the load off of your staff. This allows them to complete more important tasks. Let your staff be ready help patients when they walk through the door.
Our medical answering service has been in business and ready to service San Francisco for over three decades. We provide high-quality support for the medical industry. You can rest assured knowing that your practice will always remain connected with its patients no matter what.
Furthermore, our services are US-based and never outsourced. This allows your patients to get in touch with someone they can clearly understand. This can help build trust with our operators, allowing your patients to feel comfortable discussing medical issues.
You don't want to hire just any call center. You need to hire one that is highly trained in the medical industry. This allows your patients access to operators that understand HIPPA laws and medical terminology. This will ensure that both you and your patients will get the experience you expect.
Contact us today at 888-216-8482 or by using the "Contact Us" page of this site if you want more information about our medical answering services in San Francisco, CA or if you'd like one of our representatives to give you a free quote.