She handles calls for six plumbers, four roofing companies, two caterers, and a one-man traveling circus.
Do you really want her answering calls for your medical practice?
Worldwide Business Interview with Kathy Ireland
We are Medical Answering Service specialists
Answering calls for doctors, dentists and other health care providers is not the same as answering calls for plumbers, electricians or birthday clowns. That's why MedConnectUSA works only with health care providers and has become the one-stop medical answering service solution.
We deliver 100% HIPAA-compliant medical answering services, including after-hours phone support, secure private messaging, and disaster recovery services. Every call is answered by a medical teleservices expert.
100% USA based, never outsourced
MedConnectUSA
At MedConnectUSA, we pride ourselves on providing a 24-Hour Medical Answering Service that you can truly rely on. Our highly-trained, effective and energetic team are 100% U.S.A. based and are the perfect choice for you when looking for a dependable HIPAA compliant medical answer service to serve the needs of your clinic or practice.
We work closely with health centers, physicians, hospitals, dental practices and community health centers to ensure that we provide a medical answering service that meets their needs. At MedConnectUSA, we specialize in providing medical answering services and deal with those working in the medical field exclusively. With our award-winning 24/7 medical answering services you can be sure that your clinic and your patients get the care and attention that they deserve.
Our Medical Answering Services
When choosing a medical phone answering service, you need to be sure that you choose a medical answering services company that will deliver exactly what you need. At MedConnectUSA, we have been serving the medical industry across America since 1991. With our years of experience, we have developed a complete package of 24/7 medical answering services to fit perfectly with the needs of your practice.
As medical teleservices specialists, we offer a full range of both automated and live-operator services for chiropractors, physicians, doctor's offices, health centers and other healthcare practitioners. Our experienced and knowledgeable operators provide an unparalleled medical answering service and provide high-quality patient care support that will work seamlessly with your current operations.
We offer flexible packages with options for every clinic, practice and medical office, no matter how big or small. At MedConnectUSA, we offer the following medical answering services:
Live Telephone Answering
Call Center Services
Automated Voice Mail Services
Live Operators
Backup Voice Mail Services
Daytime Hours Answering
Secure Messaging
Disaster Recovery
Disaster Readiness
HIPAA Compliant Services
The Benefits Of Choosing 24/7 Medical Answering Services With MedConnectUSA
100% USA Based
All of our operators are based in America. Unlike some other 24/7 medical answering services, we never outsource our services. Every one of our operators is positioned in one of our strategically positioned call centers in the United States.
Here at MedConnectUSA, we understand the importance of privacy and security, especially in relation to the medical field. We are 100% HIPAA certified and strictly adhere to all of the guidelines. Since the law was put into effect in 1996, we have always ensured that we maintain compliance and are proud to say that we have implemented all the security measures necessary to remain up-to-code in order to deliver a reliable and functional HIPAA compliant medical answering service.
Whether you are looking for a 24/7 medical answering service for a doctor's office, medical office, health care center or for an answering service for any other healthcare provider, look no further than MedConnectUSA. Serving the medical industry since 1991, we have more experience and are more knowledgeable than any of the other medical answering services companies out there.
With a full range of medical answering services to choose from, a team of highly trained and experienced US-based operators and a fully HIPAA compliant service, MedConnectUSA is the perfect addition to your medical facility. Give our expert team a call today and we'll find the perfect solution to meet your needs.
At MedConnectUSA, we specialize in serving the medical industry and the medical industry alone. Each one of our operators is trained to the highest standard, are highly skilled and very well-experienced in providing answering services for chiropractors, answering services for doctors, answering services for medical offices, health centers and answering services for other healthcare practitioners.
Many medical answering services have hold times of two minutes or longer. However, at MedConnectUSA, our average hold time is less than 30-seconds. Our operators are trained to deal with each call from start to finish to make sure that there is no potential for operator error and ensuring that your patients get the attention they need.
What if I do not use a HIPAA-compliant answering service?
If medical professionals do not use a HIPAA-compliant answering service, the consequences can be severe. Violations of the HIPAA Privacy Rule can result in civil and/or criminal penalties. In addition, covered entities and their business associates may be subject to investigation and/or audits by the Office for Civil Rights (OCR).
Under the HIPAA Privacy Rule, covered entities must use appropriate safeguards to protect the confidentiality, integrity, and availability of electronic protected health information (ePHI). Business associates of covered entities must also implement reasonable and appropriate safeguards to protect ePHI.
Answering services that are not HIPAA-compliant may not have adequate safeguards in place to protect ePHI. This could lead to a data breach, which could jeopardize the privacy of a patient's health information.
Covered entities that use non-compliant answering services could be fined up to $50,000 per violation, or pay a maximum of $1.5 million per year. In addition, they could be subject to criminal penalties, including up to 10 years in prison. Business associates that use non-compliant answering services could also be subject to civil and/or criminal penalties.
OCR may investigate complaints about covered entities or business associates that are using non-compliant answering services. OCR may also conduct audits of covered entities and business associates to ensure compliance with the HIPAA Privacy Rule.
Medical Answering Service Specialists
We only work with doctors, dentists, hospitals and other medical practices; that gives us more experience and a better understanding of the service and support your patients require.
Highly Trained Live Operators
Every operator is specially trained to provide medical answering services, with ongoing training to keep them up to date on changes in the health care industry and privacy laws.
100% HIPAA Compliant
We use encrypted communications, secure web portals, and advanced security protocols to ensure all of our medical answering services meet HIPAA requirements.
A Full Range of Answering Services
From routine physician answering services to complete disaster recovery assistance, we are the answering service medical experts. We provide custom solutions that help patients, health care providers and staff stay connected 24/7.
100% U.S.A Based, Never Outsourced
All our operators are MedConnectUSA employees located in one of our U.S call centers, so you can be certain your patients' phone calls and messages are being handled by medical answering service professionals.
Flexible Rate Plans
Your medical office has specific requirements, so we'll work with you to develop the right combination of medical answering services and a custom rate plan just for you.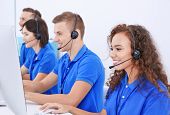 MedConnectUSA, Award winning medical call center. Medical calls are almost always urgent and require a quick response. Relying on in-house staff or inexperienced call center executives can be risky and inconvenience the patients. When people call for medical assistance, they require a calm and confident voice at the other end. They don't want someone who is easily distracted, rushes through calls, or unable to respond to emergencies.
At MedConnectUSA, we have trained and competent staff who respond well under pressure. They know how to handle different kinds of medical calls with a calm, cool demeanor. Our award-winning services won't just help patients, but also improve your practice's reputation.
We have been in this industry for more than 30 years and understand the common pain-points of such a service. Patients often have to deal with issues like multiple operators, long hold times, disturbances, and more. We avoid all of these issues by making sure a single operator handles every call. Our average wait time is 30 seconds, and we play a customized message during this time to keep patients engaged. As all our operators work from the call center, there's no distraction or disturbance.
This service can be set up in 24 to 48 hours and will function well from the get-go. Other call center services might set the system up quickly, but they don't spend the time to understand your practice and customize the service accordingly. This can lead to dissatisfied patients.
Our 24/7 answering services will help you serve your clients better in all kinds of situations. We offer a wide range of answering options, automated answers as well as live telephone support. MedConnectUSA also provides flexible rate plans so you can easily find something that fits your budget and still delivers the services you need. We will give local numbers, so there's no need to deal with long distance call costs or tolls.