She handles calls for six plumbers, four roofing companies, two caterers, and a one-man traveling circus.
Do you really want her answering calls for your medical practice?
Worldwide Business Interview with Kathy Ireland
Quality, Reliable and, Efficient Medical Answering Service
Are you a medical practitioner needing to stay connected to your clients 24/7? If you are missing patient calls and losing revenue, MedConnectUSA offers the solutions you are looking for.
We provide 24/7 US based medical answering service, including Live Operator, Business Days, After Hours, Web Services, and Mobile App. Whether your practice is dentistry, cardiology, family practice, pediatrics or any other medical office, we are here to help your practice give the positive, reliable and efficient medical answering service your providers and patients deserve.
100% USA based, never outsourced
Convenient Medical Answering Service – At Your Service
At MedConnectUSA, we are always at the ready to help your callers. With a variety of services to choose from, we can give the proper service for your practice.
24/7 Live Call Answering
Whether you need MedConnectUSA for day time answering, overflow answering or after hours answering, we are here 24/7 for your callers.
After-Hours Call Answering
MedConnectUSA prides itself on being the experts in the medical answering service industry. We consider ourselves an extension of your office. By having this frame of mind, we allow your staff go home at night, provide the excellent service your patients deserve as well as give peace of mind to your providers and staff that MedConnectUSA will be there for your patient's time of need.
Overflow Medical Call Answering
At MedConnectUSA, we always have someone on hand to help you handle overflow during business hours. This allows your staff to concentrate on the patients they are working with. It also has the added benefit to giving peace of mind to your patients when they speak to an actual person instead of having to leave a voice mail for your office staff.
Secure Message Services
With the every changing needs of the medical industry, MedConnectUSA has been proactive. Our secure message application allows your providers to see the message, dial out from the message as well as forward the message. We also have the capability to have your staff send messages through our desktop application to your providers during the day.
Secure Quality, Reliability and Efficiency today by choosing MedConnectUSA
If you have doubts about whether you should outsource your incoming calls to a medical answering service, pause and ponder your next move. Are you grappling with any of the issues below? Give us a chance to serve you!
• Missed Calls: If you're always missing calls or your staff is too busy, get the perfect solution from us. Our live operators ensure your calls come through 24/7.
• Increased After-Hour Calls: We understand that you may have to close your medical practice for the day, which is why our operators work on a 24/7 basis waiting to receive after-hours calls. That way, you do not have to worry about missing information about emergency cases that may arise.
• A Spike in Call Volume: When there's an unexpected spike in call volumes, some patients might find it challenging to get through to your office. A reliable medical answering service can handle the overflowing calls, helping you serve your patients better.
MedConnectUSA is the expert medical answering service that your patients deserve. To find out more information, please fill out the request form below or simply call us at 888-216-8482
Live Telephone Answering
Call Center Services
Automated Voice Mail Services
Live Operators
Backup Voice Mail Services
Daytime Hours Answering
Secure Messaging
Disaster Recovery
Disaster Readiness
HIPAA Compliant Services
The Benefits Of Choosing 24/7 Medical Answering Services With MedConnectUSA
100% USA Based
All of our operators are based in America. Unlike some other 24/7 medical answering services, we never outsource our services. Every one of our operators is positioned in one of our strategically positioned call centers in the United States.
At MedConnectUSA, we specialize in serving the medical industry and the medical industry alone. Each one of our operators is trained to the highest standard, are highly skilled and very well-experienced in providing answering services for chiropractors, answering services for doctors, answering services for medical offices, health centers and answering services for other healthcare practitioners.
Many medical answering services have hold times of two minutes or longer. However, at MedConnectUSA, our average hold time is less than 30-seconds. Our operators are trained to deal with each call from start to finish to make sure that there is no potential for operator error and ensuring that your patients get the attention they need.
Here at MedConnectUSA, we understand the importance of privacy and security, especially in relation to the medical field. We are 100% HIPAA certified and strictly adhere to all of the guidelines. Since the law was put into effect in 1996, we have always ensured that we maintain compliance and are proud to say that we have implemented all the security measures necessary to remain up-to-code in order to deliver a reliable and functional HIPAA compliant medical answering service.
Whether you are looking for a 24/7 medical answering service for a doctor's office, medical office, health care center or for an answering service for any other healthcare provider, look no further than MedConnectUSA. Serving the medical industry since 1991, we have more experience and are more knowledgeable than any of the other medical answering services companies out there.
With a full range of medical answering services to choose from, a team of highly trained and experienced US-based operators and a fully HIPAA compliant service, MedConnectUSA is the perfect addition to your medical facility. Give our expert team a call today and we'll find the perfect solution to meet your needs.
Medical Answering Service Specialists
We only work with doctors, dentists, hospitals and other medical practices; that gives us more experience and a better understanding of the service and support your patients require.
Highly Trained Live Operators
Every operator is specially trained to provide medical answering services, with ongoing training to keep them up to date on changes in the health care industry and privacy laws.
100% HIPAA Compliant
We use encrypted communications, secure web portals, and advanced security protocols to ensure all of our medical answering services meet HIPAA requirements.
A Full Range of Answering Services
From routine physician answering services to complete disaster recovery assistance, we are the answering service medical experts. We provide custom solutions that help patients, health care providers and staff stay connected 24/7.
100% U.S.A Based, Never Outsourced
All our operators are MedConnectUSA employees located in one of our U.S call centers, so you can be certain your patients' phone calls and messages are being handled by medical answering service professionals.
Flexible Rate Plans
Your medical office has specific requirements, so we'll work with you to develop the right combination of medical answering services and a custom rate plan just for you.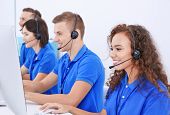 MedConnectUSA, Award winning medical call center. Medical calls are almost always urgent and require a quick response. Relying on in-house staff or inexperienced call center executives can be risky and inconvenience the patients. When people call for medical assistance, they require a calm and confident voice at the other end. They don't want someone who is easily distracted, rushes through calls, or unable to respond to emergencies.
At MedConnect USA, we have trained and competent staff who respond well under pressure. They know how to handle different kinds of medical calls with a calm, cool demeanor. Our award-winning services won't just help patients, but also improve your practice's reputation.
We have been in this industry for more than 25 years and understand the common pain-points of such a service. Patients often have to deal with issues like multiple operators, long hold times, disturbances, and more. We avoid all of these issues by making sure a single operator handles every call. Our average wait time is 30 seconds, and we play a customized message during this time to keep patients engaged. As all our operators work from the call center, there's no distraction or disturbance.
This service can be set up in 24 to 48 hours and will function well from the get-go. Other call center services might set the system up quickly, but they don't spend the time to understand your practice and customize the service accordingly. This can lead to dissatisfied patients.
Our 24/7 answering services will help you serve your clients better in all kinds of situations. We offer a wide range of answering options, automated answers as well as live telephone support. MedConnect USA also provides flexible rate plans so you can easily find something that fits your budget and still delivers the services you need. We will give local numbers, so there's no need to deal with long distance call costs or tolls.