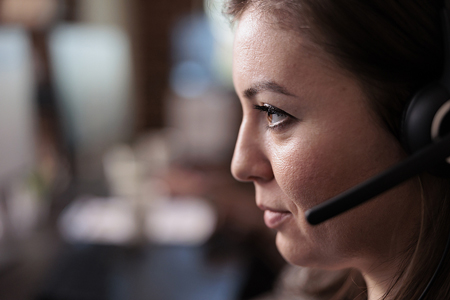 As a medical answering service in Chicago, we understand the importance of having your phone calls answered in a friendly and professional manner. When your patients are calling in, they want someone that they can understand and someone that is trustworthy. Our medical answering service in Chicago requires all our operators to graduate from our specialized training program. This training includes, but is not limited to, medical terminology as well as HIPPA compliance. We are located in the US, so your patients will always encounter operators that are easy to understand and have been trained in-house by professionals. If you are overwhelmed with calls, call MedConnectUSA to find out what we can do to help.
When finding a medical answering service for your practice, you must first understand the difference between a medical answering service located in and familiar with Chicago, and a typical call center. We take our services to another level by having our operators thoroughly trained in the medical industry, because medical calls is all they take. This allows your patients to speak with someone that can confidently answer their questions, schedule appointments, and determine if a patient urgently needs to speak to a provider based on your instructions. Our entire company and all the services we provide are specialized for the medical field.
Many times, your patients will be calling with medical questions and concerns. You want them to feel confident that they are being taken care of by well-trained professionals. MedConnectUSA is proud of our Chicago location. We take pride in our staff and work hard to educate them on proper medical terms and what is expected from each one of our clients.
Customizable Medical Answering Services
At MedConnectUSA, our medical answering services are customized to your preferences and needs. We have flexible scheduling, so if you have an employee call in sick, we can be your backup. We are open 24/7, allowing your patients to reach out to you anytime. This will enable you to get appointments scheduled even when the office is closed or over the holidays. Keep your schedule busy and booked with our convenient services by calling 888-216-8482 to get started.
Is your office staff going crazy with ringing phones and struggling to keep up with their office work? Ringing phones can be very distracting, taking your office staff away from other important tasks. This is where our medical answering service can step in, and we are happy to help! Our team can answer all of your phone calls, help with daytime overflow, or simply manage your after-hours calls, how you use our service is up to you, we are always available! We can take the weight off of your staff to allow them to be able to help your patients sign in, fill out forms and be better prepared for their office visits.
Grow Your Practice with Our Help
Plan on growing your practice? Growing a practice is exciting. But there are times when you can't decide if you should hire another person or hire a medical answering service located right here in Chicago. Well, the choice is pretty easy. If you find someone who can relieve your staff of the mundane but necessary duties of scheduling appointments and answering questions, could they get more done in the office? The answer is probably yes, and with less distraction, probably even more quickly than you'd expect.
Furthermore, our medical answering services are flexible, so you could hire us today, but down the road, maybe use us less. We can work with you to figure out what type of schedule works best for your particular situation. All of this can be done without the cost of additional employees. In fact, many of our clients are surprised at just how affordable our medical answering services are.
Customized to Meet Your Needs
From super busy offices to offices just starting out, our medical answering service in Chicago can be tailored to fit your needs. We can also step in temporarily. If you have a staff member on vacation or medical leave, why not test our services? People don't like working short-staffed, and sometimes medical leave is for a longer period of time. This can be especially draining on the staff that is left. Take the time to try out our medical answering services! This can help carry some of the burdens from missing staff members, and your other employees will thank you.
When it comes to choosing a medical answering service provider in Chicago, you want someone who is experienced and reliable. That's why we at MedConnectUSA are the perfect choice for you. Our team of professional medical operators are available 24/7/365 to help answer your patients' questions and resolve any issues that may arise. We also have a dedicated caller experience team constantly working to improve our system and provide the best possible customer service to our providers and their patients.
We know that patient satisfaction is key in the healthcare industry. We offer award-winning medical answering services located right here in Chicago, solutions to fit any budget and need. Call 888-216-8482 today to get started.