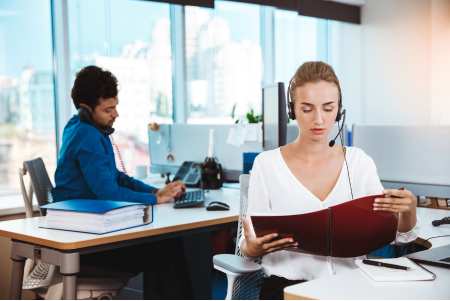 Are conventional answering services costing you patients?
Save cost and get more patients today with a medical answering service.
MedConnectUSA can offer you that.
We are an award-winning, dedicated medical answering service provider for medical professionals in Denver, CO. Backed with over 30 years of experience, we know how to keep you and your patients happy.
Want to convert more new patient calls to appointments?
Contact us today!
A Provider With A Medical Background
Frankly, there is nothing wrong with generic answering services. They might work for other industries, but not medical professionals.
For the medical-related industry, you can only outsource to a provider who understands medical lingos.
We are that medical answering service provider in Denver, CO, area. Our operators have been trained specifically to handle medical calls.
Beyond specialized training and knowledge, we have first-hand experience managing calls for medical professionals. And we have been doing so since 1991.
Who better to manage your calls?
Join the league of top medical professionals in Denver, CO, using our medical answering services.
Flexible Medical Answering Service In Denver, CO, For All
Are you a physician or dentist?
The specifics don't matter. We service all medical offices and practitioners across Denver, CO.
Whether you're a healthcare practitioner or only work in the doctor's offices, our goal is the same:
Unburden you and calm the worries of your patients & office staff.
In the most populous city in Colorado, you'll likely be busy all day on the phone. While that is good for business, it can be frustrating during emergencies or when patients need you.
Fortunately, we can lessen the workload and free up more time for you and your staff.
Check out some of our top medical answering services provided in Denver, CO, area:
Live Operators
Daytime Hours Answering
Secure Messaging
Automated Voice Mail Service
Live Telephone Answering
Disaster Readiness
Disaster Recovery
HIPAA Compliant Services
Can't find what you seek?
Talk to one of our operators now to discuss your needs!
We Offer 24 Hour Medical Answering Services
At MedConnectUSA, all our medical answering services are available 24/7. Whether day or night, our operators manage all calls, emergency or trivial, with the same level of care and attention.
Do You Need A Medical Answering Service?
Patients won't hang around waiting for you to pick up your phone. They need your attention now. And the earlier you pick and calm their fears, the higher patient satisfaction.
Equally, the patients who are sick or in pain need your attention urgently.
Should you chase new patients or treat the ones you already have?
The situation can be frustrating and overwhelming. You can even feel somewhat helpless.
Do you see the benefit of a medical answering service now?
With one, you can get endless new patients and retain current patients. This sales angle aside, medical answering services help you stay in business.
MedConnectUSA Is The Right Provider For You
With state-of-the-art equipment and experienced operators, we are one of the best medical answering service providers in Denver, CO.
We take pride in our work. So much so that we understand your fears and those of your patients.
You understand the importance of an answering service. But you don't want a generic provider that will likely chase away new patients.
Patients also need a medical practitioner who cares enough to pick up their calls. They want a relationship of trust before committing to your services or parting with their hard-earned money.
We can be the bridge. Backed with over 30 years of experience, we know how to connect with patients. We will lessen the workload of your office staff.
We can also stand in for sick staff and manage their calls. In turn, you'll maintain trust and build your practice.
Does that sound like what you are looking for?
Partner with us today!